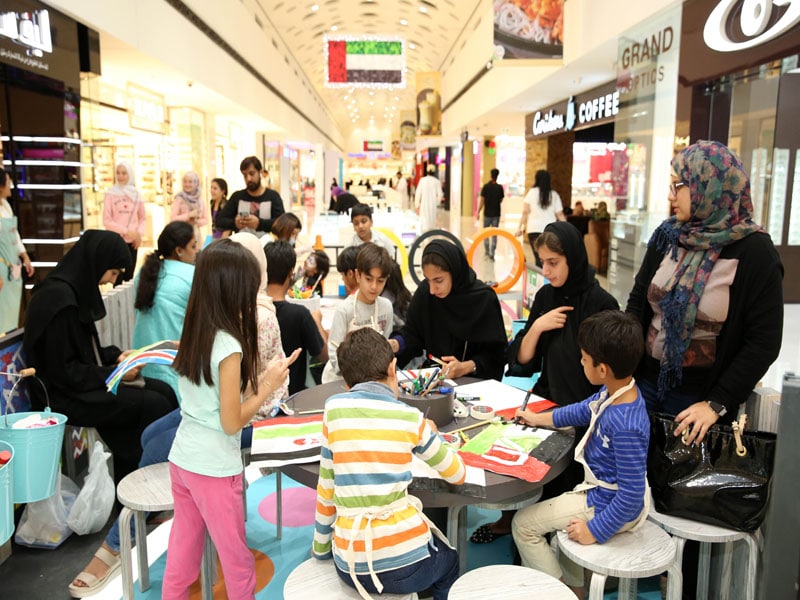 < Back to listing
Matajer malls in Sharjah to host exciting Art Lab to stimulate kids minds this month
Visitors of all ages will be able to try a variety of arts and crafts through the initiative
Sharjah Holding PJSC, a partnership between Majid Al Futtaim-Properties and Sharjah Asset Management will give something back to communities in Sharjah by hosting free creative workshops for families and millennials at its Matajer malls from December 1-15.

From piano and drum playing sessions to a diverse range of visual artforms, including glass painting, pointillism and calligraphy, kids and adults can unleash their inner artist at the exclusive Art Lab set up at Matajer Al Juraina this month.

"The city of Sharjah has always been an incubator of culture and art events. Inspired by this, we wanted to transform Matajer Al Juraina and Matajer Al Mirgab into dynamic creative hubs by hosting fun and educational activities for visitors of all ages close to home. Families can take this fun and educational opportunity to relieve stress, bond and let youngsters use their imaginations and experience something new," said Hamad Al Lawati – Senior Manager, Community Malls, Majid Al Futtaim – Properties.

Parents can take part in Art Lab sessions with their children, or drop them off at the quirky, colourful space, which will be located near Nstyle. Art Lab will open from 4pm to 11pm daily from December 1-15. Sessions held on the first three days followed a National Day theme, in honour of the 47th anniversary of the UAE's formation.

Matajer is also collaborating with the Sharjah Children, a not-for-profit child development organisation that supports youngsters aged six to 12. Sharjah Children's 14 centres across the
emirate offer an array of culturally enriching activities, from playing sports to public speaking and even learning a new language. Children from three of its centres will be hosted to enjoy the workshops and showcase their artworks.

Customers should keep an eye on Matajer malls' social media channels, on which artists will be encouraged to share their work for the chance to win one of two Mall Gift Cards worth AED 500. Follow Matajer Malls on Instagram, Facebook, YouTube and Twitter.

Activities for families to try:

Pointillism
This style of painting that was popularised by the French Impressionists in the early 20th century. Such pictures are traditionally composed of many thousands of tiny coloured dots; however, the children will use cotton buds rather than traditional paintbrushes.

Music lessons
Little ones can tinkle the ivories with help from a professional music tutor. Sitting at a piano-size keyboard, each child will spend five minutes with a professional music tutor, who will teach them how to play a simple tune. As a memento, participants will receive sheet music featuring the ditty they played. Children with an affinity to rhythm-making can also try their hand at playing the drums, which will be led by a professional instructor.

Calligraphy
The art of producing decorative handwriting or lettering with a pen or brush, calligraphy has been practised in the Middle East for centuries. An expert in the skill will be on hand to help youngsters learn the basics of this beautiful artform using pens and ink.

Glass painting
Using a special, permanent paint with a translucent finish, kids will transform everyday objects into works of art to take home. Bottles, tumblers and other glass items will be decorated with vivid pictures and patterns through which the light will shine.

Resist tape art
Using a technique similar to stencilling, this session will see kids create striking two-dimensional patterns by masking a plain white canvas with sticky tape. They will then daub paint over the surface and, once it has dried, peel the tape off to reveal their designs beneath.

Face-painting
Kids themselves can become the canvas with the help of a face-painting artist. Let them choose from a host of quirky designs, from the mischievous to the angelic.