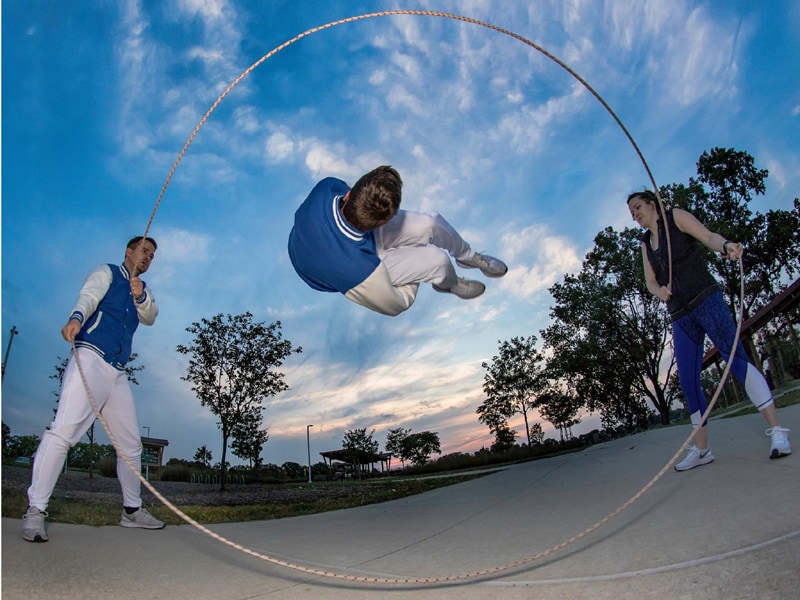 < Back to listing
Spectacular live entertainment for the entire family at Majid Al Futtaim malls in the UAE this Eid Al Adha
Don't just send your loved ones a Whatsapp message to wish them a blessed Eid Al Adha. Instead, make them feel special by spending time enjoying interactive roaming entertainment, sharing unforgettable moments over a scrumptious meal at international restaurants and shopping together at Mall of the Emirates, City Centres, My City Centres and Matajer malls in the UAE.
The malls have pulled out all the stops to make the Eid Al Adha celebrations memorable for residents and tourists with diverse family activities that will offer plenty of picture perfect moments to share on social media.

Mall of the Emirates
After thrilling audiences all over the world, the legendary
King Charles Troupe
from New York will be making an appearance in Dubai for the first time this Eid Al Adha. Get ready to be spellbound as this young group of basketball players ring the wackiest basketball game, as they dribble, alley-oop, double dunk and weave their way around a court with the ball all while balancing on a unicycle. Their troupe leader, Kim Anthony Jones (Kip), has accomplished a record setting 164 single jumps on a unicycle while double-dutch jump-roping. Visitors can whip out their smartphones to capture their over-the-top antics at Mall of the Emirates, every day for five days from
the the first day of Eid.

City Centre Mirdif
Visitors at City Centre Mirdif will be mesmerized by the daredevil antics of performers of the Enchanted Circus from
the first day of Eid
. Agile aerialists will create a fairytale setting for the audience with their mystical costumes and graceful moves daily during Eid in
20-minute shows at 4pm, 6pm, 7.30pm and 9pm
. Performers will also be interacting with visitors before the shows, giving families and opportunity to create unforgettable Instagram moments to share with their social media followers.
City Centre Deira
Enter the fantasy world of
The Red Icon
, where tart candies, lollipops and chocolates come to life from
August 21 -24
at City Centre Deira. For those with a sweet tooth, this show is not to be missed as boisterous performers, jugglers, mime artists dressed in loud and eccentric costumes will bring unrestrained fun for the entire family to the mall every day during Eid at 2:00 p.m.,5:00p.m.,7:30 p.m. and 9:00 p.m.
Bounce, jump and skip to your heart's desire with the
Flight Crew Jump Rope
troupe who will be making visitors shake a leg during Eid at City Centre Deira from
August 21-24
. With four shows every day at
3pm, 6pm, 8.30pm and 10pm
during the festival, kids and adults can join the vivacious artists as they perform jaw-dropping jumps and unimaginable feats.

City Centre Me'aisem
Do you want to learn the famous the
Oompa Loompa dance
from the
Charlie and the Chocolate Factory
? City Centre Me'aisem invites the community to join in the festivities as everyone's favourite characters from the beloved Roald Dahl's tale will bring smiles to the faces of kids and parents with their easy-to-follow dance moves in four 20-minute shows at
3pm, 5.30pm, 7.30pm and 9pm for the first four days of Eid
. Kids can join in and dance to the music and dig into the chocolate lollipops by Patchi that will be distributed during the celebrations.

Northern Emirates
City Centre Fujairah and City Centre Ajman will bring all the summer fun for visitors to its cool indoors for Eid Al Adha. The malls will come alive will
high-energy performers
that will embody sea creatures and divers with their vibrant costumes and
20-minute dynamic musical acts at 6pm, 7.30pm and 9pm
at City Centre Ajman and at
6pm, 7.30pm, 9pm and 10pm
at City Centre Fujairah until
August 24
.
Children and parents visiting City Centre Sharjah will be delighted by the
quirky back-to-school-themed entertainment
during Eid Al Adha this year. Lively artists dressed as books, pencils, erasers and sharpeners will descend on the mall and make families groove to their special choreography cued to upbeat tunes in
20-minute shows at 6pm, 7.30pm, 9pm and 10pm
.
Families spending Eid at City Centre Sharjah can also participate in
'Whiz Quiz'
, an exclusive knowledge-based contest that will create a thrilling atmosphere as families compete against each other and win prizes.
The community malls in the Northern Emirates have something special planned for the neighbourhoods that they serve this Eid Al Adha. Youngsters will turn into
little farmers
to make the city green and vibrant at the special gardening sessions at Matajer Al Juraina and Matajer Al Mirgab. Parents can drop off their children in the supervised interactive area where the will be taught how to plant seeds and create floral headpieces. The malls will also have a
balloon artist
who will create rubber flowers and cute animal characters for children during the festival. To mark the Eid holiday, the malls' interiors will be decked in blooms and verdant foliage. Fairy lights entwined between the leaves will give the lush displays an ethereal look.